Finding an Experienced Personal Injury Lawyer is the Key to Winning Your Case
Are you looking for a personal injury lawyer in Lehigh Valley? Kitay Law Offices is proud to help and our talented attorneys are very experienced in handling personal injury claims.
If you're suffering from a personal injury from an accident, life in the Lehigh Valley can be anything but normal. In these situations, even your usual shopping at the Lehigh Valley Mall or at the Price Rite in Allentown can be a challenge. As a result, a personal injury can affect your body, mind, and emotions. Mounds of medical bills, constant pain, and lost wages can make your life miserable.
KITAY LAW OFFICES
HAS BEEN FEATURED IN: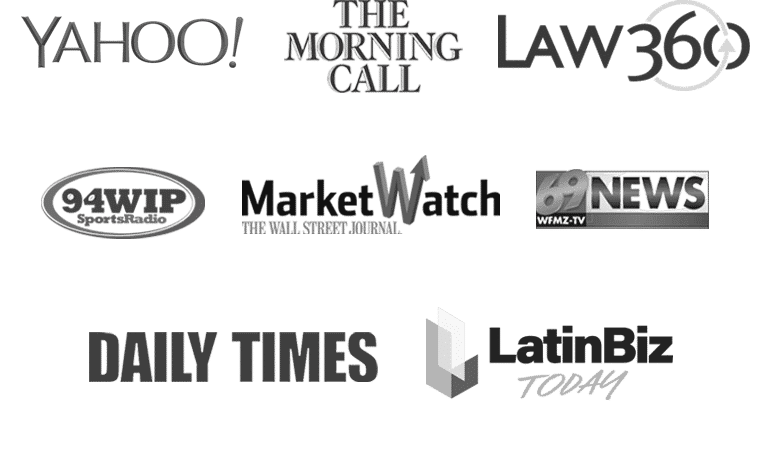 Kitay Law Offices has over 20 years of experience helping people with personal injuries in the Lehigh Valley and throughout Pennsylvania. As such, our attorneys can give you the legal representation you need when an injury happens. We'll fight for your rights and work hard to get you the largest cash settlement possible. In other words, you can receive compensation for your pain and suffering, lost income, and medical bills.
Here are some examples of personal injury cases we handle:
Car accidents
Bicycle accidents
Unsafe property
Dog bites
Slip and fall cases
Construction accidents
Wrongful death
Defective products
Call for a FREE Consultation with a Personal Injury Lawyer in Lehigh Valley today!
If you or someone you care about is suffering from a personal injury caused by an accident, Kitay Law Offices can help. Call 888-KITAYLAW today for a free consultation about your injury. If you don't win, you don't pay. Therefore, you have nothing to lose!
Got Questions?
How can I choose the best personal injury lawyer for me?
We have a full how-to guide here and we suggest you check it out. In addition, you should always interview potential attorneys to ensure they understand you and your needs. For that matter, you can always schedule a free consultation with Kitay Law Offices and ask your questions at that time. When attending your consultation, it is important to have your list of questions ready to go. For example:
Do you have significant experience with personal injury law?
How long have you been practicing in this area of law?
Have you won a lot of cases?
How many settlement dollars have you brought in for past clients?
Will you take my case to a trial, if needed?
For additional information about choosing a personal injury lawyer in Lehigh Valley and sample interview questions, check out this article.
What are the Statute of Limitations in Pennsylvania?
There are different time limits for filing a lawsuit in every state. This time limit is called a "statute of limitation" and it limits how much time after an injury occurs that a plaintiff has to take legal action against a defendant. Therefore, once the statute of limitations passes, you are unable to file a personal injury case. Pennsylvania's statute of limitations is two years for personal injury. Other statutes of limitations in Pennsylvania include:
Written or oral contracts – Four years
Fraud – Two years
Injury (or damage) to property – Two years
Wrongful death – Two years
Medical malpractice – Two years
Is there a limit to the amount of damages that I may be awarded for a personal injury claim in Pennsylvania?
Pennsylvania is not among the states which limit the types of damages an injured person or loved one of a deceased person can receive after a successful personal injury trial. As a result, it is important to obtain an experienced attorney to ensure you receive full compensation.