A DACA Lawyer can help DREAMers stay in the United States
A DACA lawyer can help immigrants who came to the United States as children stay in the country. If you are living in the U.S. and were brought here as a child, you may be eligible for DACA. This law allows DREAMers to remain in the U.S., with work authorization and protection from deportation, under certain circumstances.
DACA immigration attorneys will be able to review your case and advise if you are eligible. If your immigration status is making it difficult to live the life you want in the United States, you should contact an immigration lawyer immediately!
What is DACA?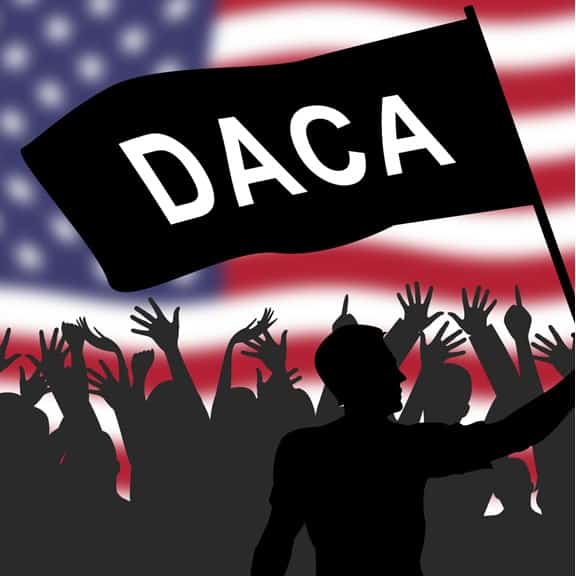 DACA stands for Deferred Action for Childhood Arrivals. Immigrants who may be eligible for DACA are often called DREAMers. Importantly, the program does not provide applicants with legal status in the United States. However, it does allow eligible applicants to receive DACA benefits, such as work authorization and protection from deportation.
Interestingly, DACA is a program that was created under an executive order by the Obama Administration in 2012. It allows many immigrants to live and work in the United States, so long as they meet certain requirements.
Why are DACA applicants called DREAMers?
President Obama created DACA by executive order after the DREAM Act failed in Congress. The DREAM Act stands for "Development, Relief, and Education for Alien Minors." For this reason, immigrants eligible for DACA are often called DREAMers. And for the same reason, attorneys who help immigrants navigate DACA are often called DREAM Act lawyers.
If you need help with your DACA immigration case, the attorneys at Kitay Law Offices are prepared to help you! You can call 888-KITAY-LAW anytime to speak with a qualified staff member.
DACA Requirements Checklist
To qualify for DACA, you must meet the following criteria:
Under the age of 31 as of June 15, 2012;
You were first physically present in the United States before your 16th birthday;
Lived continuously in the U.S. since June 15, 2007, until DACA was enacted (June 15, 2012); and
You have not been convicted of certain crimes.
Unfortunately, DACA has come into question in recent years. In July 2021, the U.S. District Court for the Southern District of Texas ruled that the program is illegal. The court also indicated that DACA would have to comply with certain administrative requirements to be re-started in the future. As a result, USCIS is not allowed to grant any new initial applications for DACA at the time of this writing.
On the other hand, USCIS is continuing to evaluate applications for DACA renewal. Further, they will accept new initial applications and hold them for future processing. USCIS hopes that the current injunction is lifted following immigration reform. A DACA renewal lawyer can help you with this process.
DACA Benefits
DACA provides several benefits to those who are eligible. These include deferred action from removal proceedings, a work permit, and protection from deportation.
In addition to these benefits, deferred action is available for three years under DACA status. Work authorization is also granted for two years under this program. DACA applicants may also travel outside the U.S., depending on their individual case. If you think you may qualify, speak with an immigration lawyer for DACA right away.
Can DACA recipients register to vote in the United States?
For the most part, DACA recipients cannot vote in federal United States elections. This is because they are not United States citizens. At the same time, a few states and local governments do allow DACA recipients to vote in their local elections. However, these instances are very limited.
Can I get a Green Card or U.S. Citizenship with DACA?
By itself, DACA does not provide a path to a Green Card or U.S. Citizenship. However, it does stop the accrual of "unlawful presence," which can make obtaining a Green Card easier for certain immigrants.
Additionally, DACA recipients may apply for Green Cards through other means, such as through a family member or employer. For more information, contact a deferred action lawyer.
Criminal convictions can prevent you from receiving DACA
Certain criminal convictions can prevent you from receiving DACA, such as:
Felony;
Significant misdemeanor (typically involves domestic violence, sexual abuse, drug distribution, and driving under the influence); and/or
Three or more non-significant misdemeanors.
If you are concerned that one of these categories applies to you, speak with an experienced DACA lawyer immediately. This is important because you may lose your DACA status even if you have already been approved.
Do I Need a Lawyer to Apply for DACA?
No, you do not need a lawyer to apply for DACA. That being said, DACA attorneys can save DREAMers time and stress by helping avoid common mistakes. Consider the potential costs of hiring one compared to the costs associated with submitting an application full of errors.
A DACA Renewal Lawyer can Improve your Chances of Success
As previously mentioned, USCIS may still process your DACA renewal application. A DACA renewal lawyer will help ensure that you meet the following criteria:
Have not left the U.S. since August 15, 2021, unless you had advance parole;
Resided in the U.S. ever since you submitted your most recently approved DACA application; and
You have not been convicted of any of the crimes that would make you ineligible.
Importantly, DACA recipients should file for renewal at least 120 days before their expiration date. This helps to ensure there is no lapse in approval status. Further, DACA renewals may be processed up to one year after expiration.
However, if you wait longer than that you will need to completely reapply for DACA. Also, you can lose your authorization to work and begin to accumulate an unlawful presence. This can complicate your future application for a Green Card or U.S. Citizenship in the future.
The DACA Lawyers at Kitay Law Offices can Help
DACA is an immigration program that allows certain immigrants to live and work in the United States. The requirements are complex. Therefore, speak with a lawyer who can help you through the process. Contact Kitay Law Offices today for a consultation with one of our experienced DACA attorneys!