If you or a loved one has been injured in an accident, you will want the best personal injury lawyer you can find. Based on nearly thirty years of experience, Kitay Law Offices understands your struggle. We urge you to take a few minutes to read some honest suggestions about how to select the best injury lawyer for you.
Some of the best referral sources are not on the internet
Even though we can learn about almost anything on the internet, we cannot trust everything we read. So when it comes to choosing the best personal injury lawyer for you, the best place to start is with people you know and trust.
Ask friends and family whom you trust.
If someone you trust can tell you about a personal injury lawyer who has helped them with a situation like yours, that is a great source. Many of us know someone who has hired a personal injury lawyer at some point in their lives.
Ask a trusted person in the community, like an elected official.
Your state representatives, senators and local government officials are helpful resources for those in need. For a complete listing of the senators in Pennsylvania click here: https://www.legis.state.pa.us/cfdocs/legis/home/member_information/contact.cfm?body=S
Ask a member of your church, synagogue or other religious group.
Many people turn to those in the religious community, like a pastor or rabbi, for help during tough times, such as when there has been a serious accident or someone passes away. These trusted advisors frequently know many people who have needed help from lawyers. As a result, they may be able to recommend a good personal injury lawyer.
KITAY LAW OFFICES
HAS BEEN FEATURED IN: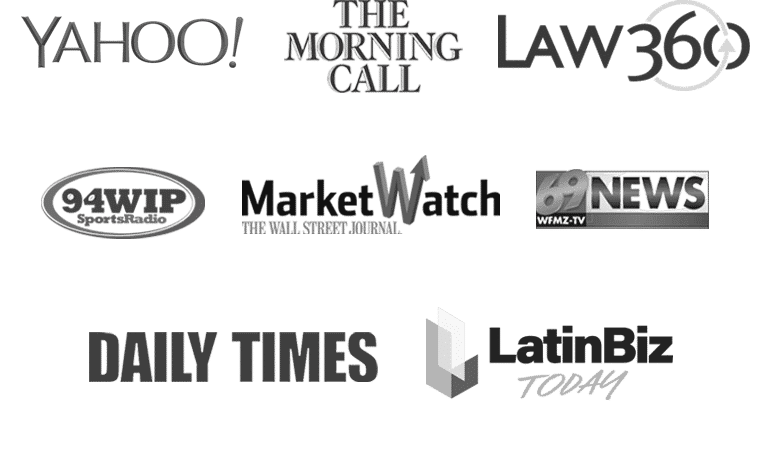 How to find trusted resources for top-rated attorneys online
You can't always trust everything we read on the internet, but there are many online resources that can help you find the best personal injury lawyer for you.  Here are some tips on how to find helpful information:
Be cautious when reading reviews on an attorney's website.
Most businesses will not allow negative reviews to appear on their website. This is true for attorneys, as well. In many cases, the good reviews have been carefully chosen and do not allow us to see other viewpoints of the attorney's services.
Find online reviews in places other than the attorney's own website.
Google and Facebook are two of the biggest and most recognizable sources which allow people to review personal injury attorneys and other businesses. A large number of reviews can indicate significant experience in the field. Even so, it is still important to be cautious.  A lawyer with a 100%, perfect five-star rating may be paying for those reviews. Some business owners even pay people who have written bad reviews to take them down.
Not all bad reviews should be believed. Some people will never be satisfied, regardless of the services provided by their personal injury attorney.  Others post bad reviews simply because an attorney declined to take on their case.  Also, some business owners intentionally post bad reviews to damage their competitors' reputations.
So what does all this mean? Read as many reviews as you can so you can make your own informed decision.
Find trustworthy information about lawyers on your state's Bar Association website
Your state's Bar Association website is a great place to find trustworthy information about a personal injury lawyer. Bar Association websites typically contain basic information about attorneys, including:
The year the attorney was first licensed.
Law school attended.
Whether his or her license has ever been suspended or revoked.
Information on if he or she has ever been sued for legal malpractice.
Here is a link to the Pennsylvania Bar Association website: http://www.pabar.org/site/For-the-Public/Find-a-Lawyer
Find helpful information on other websites dedicated to the legal profession
There are many other websites that you can use to find more information on the experience level of a personal injury lawyer. Some of these include:
AVVO – This website scores attorneys on a 1-10 scale based upon several factors, including: reputation, reviews from clients, reviews from other attorneys, organizations of which the attorney is a member, length of time in practice, focus of practice, lectures and publications.
Here is a link to AVVO: https://www.avvo.com/
FindLaw – FindLaw's Lawyer Directory is the largest online directory of attorneys.  You will be able to browse more than one million listings, covering everything from criminal defense to personal injury to employment discrimination. Each listing includes a detailed law firm profile which includes information like the firm's area of law, office location, office hours, and payment options.
Here is a link to FindLaw: https://lawyers.findlaw.com/lawyer/statepractice/pennsylvania/philadelphia
Interview the law firm for yourself
At the end of the day, the most important thing is that you pick a lawyer you can trust and one with whom you are comfortable. At Kitay Law Offices, we welcome the opportunity to provide you with a face-to-face meeting with one of our outstanding lawyers.
When you come into our office, here are some questions you may want to ask:
How much experience handling this type of a case do you have?
What amount of your practice is dedicated to those who have suffered personal injuries?
Do you work on a contingent fee?
Can you help me get medical care if I need it?
Are your trial lawyers in house or do you typically refer cases out for litigation?
At Kitay Law Offices, we are excited  to meet you and look forward to helping you with your personal injury matter. Call us today at 888-KITAYLAW or contact us at through our website at https://kitaylegal.com/contact/