Get Help from an Allentown car accident lawyer today!
After an accident, call an Allentown car accident lawyer at Kitay Law Offices for a free consultation.  We understand the courts and judges and can get you the maximum compensation available for your injuries.
There are frequent car accidents on the roads in and around Allentown because they intersect with many major highways.  As a result, people from all over the area use them to travel to work, school, sports, and shopping. These intersections also cause other types of collisions such as pedestrian accidents, motorcycle accidents, truck accidents, and bicycle accidents.
So, it is important to discuss each of these issues in order to recover compensation for your medical expenses, lost wages, and pain & suffering.
You have Two Years to File Your Claim
The statute of limitations for car accidents in Pennsylvania is two years. So, you should talk to a lawyer as soon as possible after the accident has happened so that we can file your claim before this time limit expires.
We know how important it is for you to not only get compensated, but also to get your life back on track. This means getting medical treatment immediately. As a result, you should be able to start your recovery while we work on obtaining the compensation you deserve.
Hire a lawyer with experience in Allentown courtrooms
Unlike many law firms you see advertising on TV or on the internet, we are located in Allentown! We know the courts and have been protecting our clients' rights in the Lehigh Valley for a long time. So, you can be confident that we will know how to best handle your car crash case. We are also experienced in handling all types of car accidents and have helped people get the compensation they deserve for more than 25 years!
Contact Us for a FREE Consultation about Your Car Accident in Allentown, PA
Kitay Law Offices has the resources to handle any type of car accident case. If you or someone you love has been injured in an Allentown car accident, we can help.  Call 888-KITAYLAW today for a free consultation. If you don't win, you don't pay!
KITAY LAW OFFICES
HAS BEEN FEATURED IN: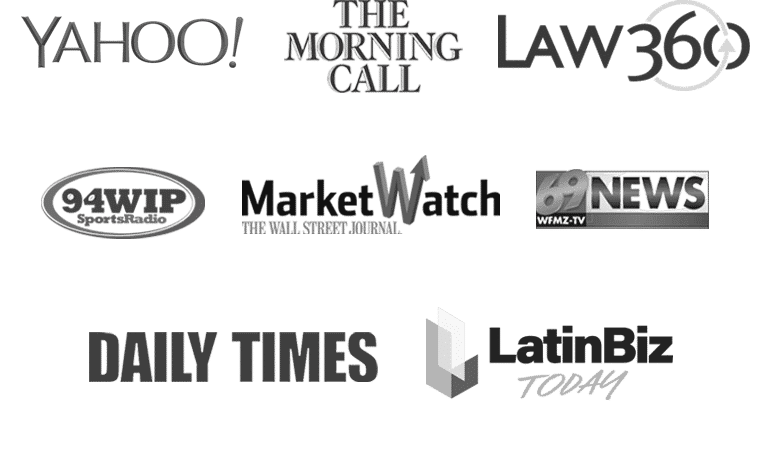 We know where your Allentown car accident happened
We travel in and around Allentown everyday. Chances are, we know where your accident happened and can visualize it just from speaking with you. Lawyers from miles away cannot do this with you.
For years, Allentown has been a growing area in Pennsylvania. This has caused tons of traffic on the highways and side-streets. This is especially true on our most popular highways, such as 78, 22, 33, and 476. This heavy volume of car and truck traffic on Allentown interstates and other roads increases the chance of car accidents resulting in serious injuries.
Therefore, it is important to hire a lawyer for your car accident case as soon as possible after the incident. This ensures that you have someone on hand who knows how Allentown courts operate and can help guide through this difficult time in life with compassion and understanding.
We also know that an Allentown car accident can cause traumatic emotional distress. We are here to listen and show you that we care.  Contact an Allentown auto accident lawyer at Kitay Law Offices today!
How can I get paid for my pain and suffering?
Believe it or not, in Pennsylvania your rights to recover for your injuries are frequently determined by the terms of your own car insurance policy. Unfortunately, you probably have no idea what your rights are because most insurance agents simply offer you the cheapest policy possible. Your attorney will review the terms of your policy to help determine your rights.
Basically, however, you can recover for your pain and suffering if you have selected the "full tort" option on your car insurance policy.  The "full tort" option is typically more expensive than your other option, "limited tort." With the limited tort option, you can usually only recover your out-of-pocket costs related to your car accident.
Importantly, there are some exceptions where you can recover for pain and suffering even if you have the limited tort option on your car insurance policy.
If I have full tort on my policy, can I get money for anything other than pain and suffering?
Yes! If you are able to recover damages with the "full tort" option on your policy, you can recover money for many different effects your accident has had on your life.  While there can be more, some things you can receive money for include:
Pain, inconvenience, and emotional distress
Embarrassment and humiliation
Loss of enjoyment of life
Disfigurement
My Allentown car accident has damaged my relationship with my spouse.  What about that?
If you suffered injuries in a car accident, your spouse may also have a claim called "loss of consortium." Married couples have many different aspects to their relationship, such as who does the laundry, who cleans the dishes, who takes out the trash, and more.
You each also support each other when you have a bad day or come down with the flu. Finally, you have an intimate relationship. If your relationship with your spouse has been affected by your injuries in a car accident, your spouse may have a claim for compensation, as well.
What if it is my spouse's car insurance policy?
If your spouse selected the limited tort option, you are likely bound by that selection. Unfortunately, the selection applies to every family member in your household.  Typically, this is true unless they have their own car and car insurance policy with the full tort option selected. Therefore, it is important to contact your car insurance company prior to an accident to ensure you have the full tort option on your policy.
Importantly, whatever option you have on your policy at the time of your accident determines your rights. You can't change your policy to the full tort option after an accident in order to recover for your pain and suffering. The terms of your policy that are in effect at the time of your accident determine your rights.
Don't accept a settlement offer until you speak with an Allentown car accident lawyer
Don't settle with the insurance company before consulting an Allentown car accident attorney at Kitay Law Offices. The consultation is FREE and takes only 30 minutes of your time. You may be entitled to more than you think.