Bring a toy to come see Miss. Pennsylvania and Santa at the 2022 Santa Toy Run!
Bally, PA – Are you ready for the 2022 Santa Toy Run on Saturday, November 12th? Come join Kitay Law Offices and Alysa Bainbridge, Miss Pennsylvania 2022, for a special day of fun and holiday cheer!
Riders will gather at Bally Fire Company located at 537 Chestnut St., Bally PA 19503 where registration will start at 10:00 am. Kickstands will go up at 11:30 am as the bikers make their way down to the Grandview Hospital Pediatrics located at 700 Lawn Ave., Sellersville, PA 18960.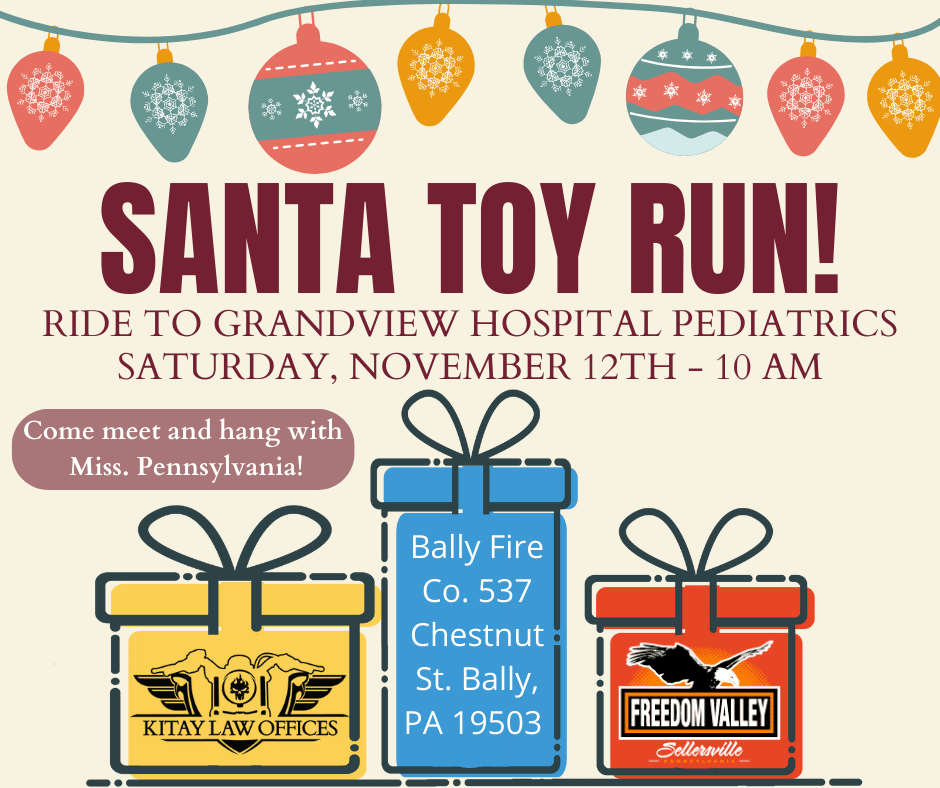 Each year, bikers from all around the area gather at the Bally Fire Company in Bally, Pennsylvania to parade all the way down to Grandview Hospital Pediatrics to drop off toys for the kids! This event brings in a ton of bikers that want to share the holiday cheer. All toys are donations that are new and unwrapped for the children!
After the toy drop, there will be a cookout at Freedom Valley Harley Davidson for everyone to relax and have fun! This event is sponsored by Freedom Valley Harley Davidson and Kitay Law Offices!
We hope to see everyone there for this amazing event to hang out with Miss. PA on Saturday, November 12th!
If you have any questions please reach out to santaruntoydrive@gmail.com.