Kitay Law Offices is proud to say we are sponsoring the first inaugural Lehigh Valley Bike Fest! This is an amazing opportunity for the Lehigh Valley to come together and enjoy a beautiful weekend as a community.
In addition, the Blast Furnace Blues Festival will be taking place at the same time, so there will be something for everyone! We hope you'll join us at the event for a weekend of music, motorcycles, and fun!
When is Lehigh Valley Bike Fest?
The Lehigh Valley Bike Fest is a three-day event that will be taking place from July 22-24, 2022 at the iconic SteelStacks in Bethlehem, Pennsylvania. The bike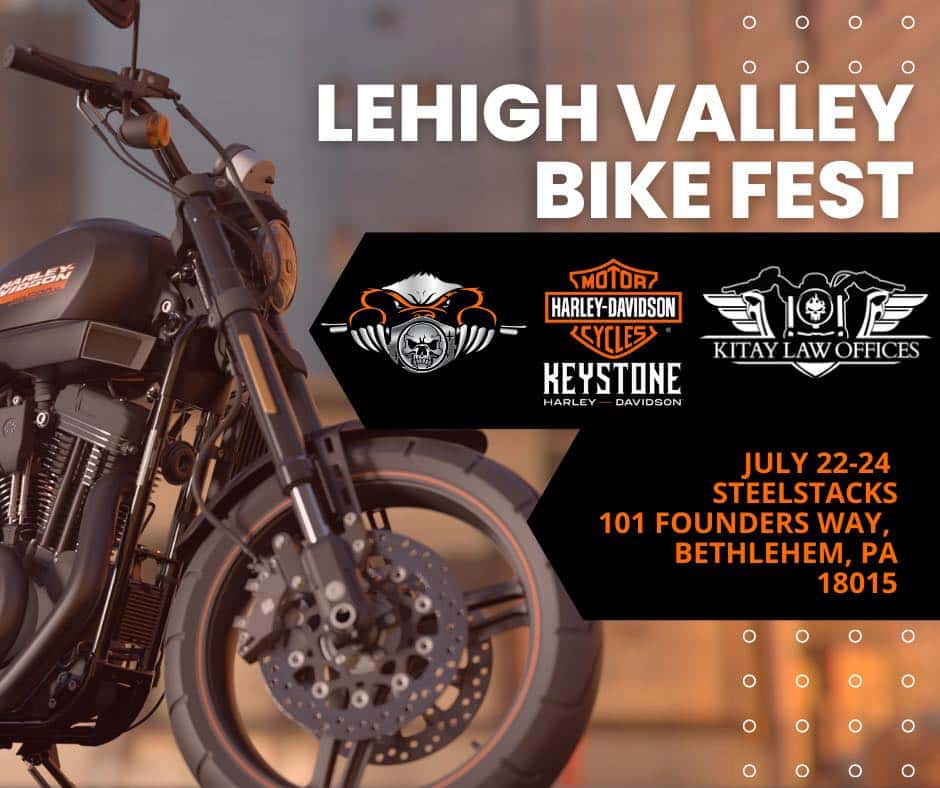 Keystone Harley Davidson is the presenting sponsor for this year's event. They are located nearby in Whitehall and have strong ties to the community.
fest is taking place during the annual Blast Furnace Blues Festival in the same venue.
The combined event will feature live music from a number of nationally and internationally known bands. ArtsQuest, the organization hosting the event, is a non-profit dedicated to providing arts and cultural events to the Lehigh Valley.
Further, the Lehigh Valley Bike Fest will feature a wide assortment of biker vendors, live music, food, performers, and activities. As a result, there will be a little something for everybody in the Lehigh Valley!
Who is participating in the Lehigh Valley Bike Fest?
A wide variety of bands and musical artists will perform each day. Some notable names include local stars BC Blue and internationally-acclaimed Moonshine Society.
Kitay Law Offices will be there throughout the event, as well. Come by our tent to say hello, pick up some biker gear, and even hang out with The Badgers on Saturday!
How is Kitay Law Offices involved?
Kitay Law Offices will have a tent set up during the event. We look forward to meeting all of the bikers and music lovers in attendance. With our office located in Allentown, we are a part of the Lehigh Valley community and enjoy having a great time with our neighbors!
On Saturday, July 23, we are holding a Moto-Meetup in partnership with Keystone Harley Davidson and The Badgers. The Badgers are a motorcycle-loving family and travel the country documenting their rides and experiences with the biker lifestyle.
The Badgers are also advocates for supporting the motorcycle-rider community. They have established the SupportBikers.com website to help bikers find supportive resources and legal assistance throughout the United States. In addition, The Badgers run the Support Bikers Pennsylvania Facebook group, which is all about the biker lifestyle and experiences in Pennsylvania.
When is the Moto-Meetup with The Badgers?
Beginning at 2:00pm at the Keystone Harley Davidson dealership, riders will make their way over to the Lehigh Valley Bike Fest together. At 4:00pm, you'll be able to watch an exciting motorcycle stunt show. And at 5:00pm, Kitay Law Offices will host a Moto-Meetup at our tent with The Badgers. So come on over and make some new friends!
Why does Kitay Law Offices care about bikers?
Kitay Law Offices is a proud sponsor of this year's inaugural Lehigh Valley Bike Fest. Our "Kitay For Bikers" division is passionate about helping the biker community with all of its legal needs.
Motorcycle riders are some of the most vulnerable folks on the roads. Even a low-speed accident can cause significant injuries and damages. Further, a motorcycle accident can have long-term effects on your home life and future plans. We are dedicated to helping you and your family if you are involved in an accident while riding.
The National Academy of Motorcycle Injury Lawyers
To show our support and dedication, Kitay Law Offices is a founding member of the National Academy of Motorcycle Injury Lawyers (NAMIL). This nation-wide organization works to foster high-quality representation and access to resources in the practice of Motorcycle Injury Law.
In addition, it's no secret that bikers can be disproportionately affected by traffic tickets and criminal charges. Therefore, we have a full service team focused on defending criminal charges and we love our biker clients!
Free Motorcycle Giveaway!
As an added bonus, Kitay Law Offices is excited to partner with our fellow NAMIL members in giving away a free motorcycle! This annual giveaway is totally free and the winner will receive the motorcycle of their choice up to a $20,000 value!
To enter, head on over to Bikers Win and register today! This year's contest is open until October 31, 2022.
Kitay Law Offices would love to meet you at the Lehigh Valley Bike Fest!
Come by our tent during the event and say hello! We would love to meet you and share some good times together. It really doesn't get any better than food, fun, friends, bikes, and music.
See you there!