Attorney Thomas Pivnicny has fought and won $18 million dollars in settlement payouts for his clients since 2012.
Attorney Thomas Pivnicny focuses on auto accident, premises liability, personal injury, and workers' compensation cases. His skills have won our clients over $18 million dollars in settlements! Impressive, right?
Kitay Law Offices is where Thomas wanted to work from the start.
From the first time Thomas met the owner of Kitay Law Offices, Ken Kitay, he realized "this is where I wanted to be." Ken's honest approach and positive attitude towards his work attracted Thomas to the firm. Furthermore, with Ken's connection to the community Thomas knew that he could make a difference. Ultimately what Thomas wanted to do was to help people in difficult situations.
KITAY LAW OFFICES
HAS BEEN FEATURED IN: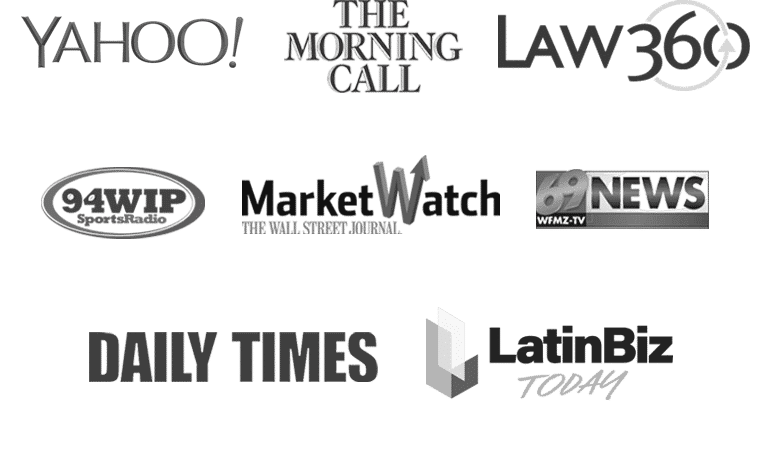 Thomas thrives on helping people when they are experiencing the most difficult time of their lives. And in most cases, his clients are unable to help themselves. Being able to handle medical bills, deal with insurance companies, understand complex legal issues, and cope with painful injuries are difficult tasks. It is especially hard for the average person, who does not usually know how to navigate the system. This is is where attorneys like Thomas and his team shine.
Attorneys like Thomas Pivnicny are going the extra mile.
A while back one of Thomas's clients was in a head-on collision while driving in the Allentown area. His client was hit by someone driving down the wrong side of the road. Except for a few cuts and scrapes at the time of the accident, he seemed to be okay. However, shortly after the accident, he began to get horrible headaches that would not go away. Thomas directed our client to go back to the doctor for further testing. It was discovered that our client had a brain bleed as a result of the accident. He needed emergency surgery. Another law firm might have sent this man on his way without thought. Another law firm might not have cared as much and just dismissed his headaches as being simply stress-related and not anything more serious.
Not only did Thomas potentially save this man's life, but he also won him a large cash settlement to cover the cost of his medical bills and to compensate him for pain and suffering. Way to go, Thomas!
As Thomas begins his eighth year with Kitay Law Offices as a partner with the firm, you can't help but wonder how many more millions of dollars and lives he will touch. At the end of the day, Thomas wants people to know that "Kitay Law Offices is the place you can go to for help… and that we're the law firm that cares about your problems."
Schedule a free consultation with attorney Thomas Pivnicny at Kitay Law Offices today!
To schedule a free consultation with Thomas, you can call him directly at 610-373-8000.