Were you hurt on the job? You can hire a tough workers' compensation lawyer in Allentown at Kitay Law Offices.
If you were hurt on the job, you may want to hire a workers' compensation lawyer in Allentown to defend your rights. After all, you have the right to workers' compensation benefits in the state of Pennsylvania.
These benefits are available:
Wage loss benefits to cover the time you miss from work;
Payment of medical bills related to your injury, including medications, physical therapy, surgery and post-operative care;
Additional payment if you have suffered an amputation, loss of vision, loss of hearing, or scars on your head, face, or neck; and
Death benefits for surviving family members.
If you receive workers' compensation through your employer for being injured on the job, but the settlement offer is NOT good enough, you'll want a professional workers' compensation lawyers in Allentown to help you. There is never an up-front fee when hiring a workers' comp attorney at Kitay Law Offices.
KITAY LAW OFFICES
HAS BEEN FEATURED IN: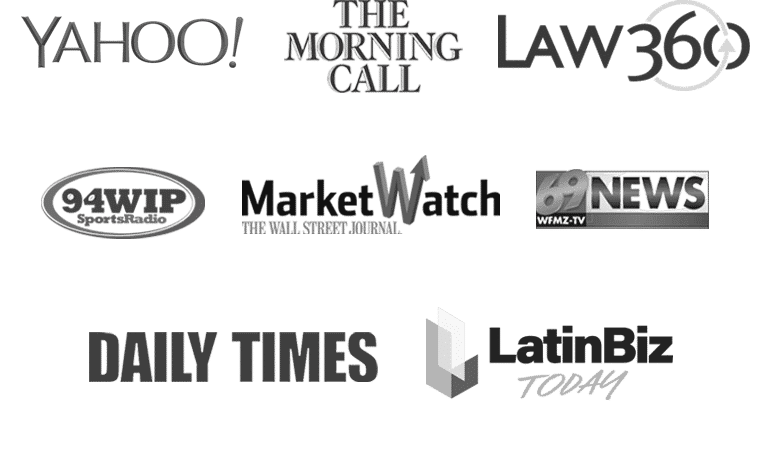 There's only one way to answer the question: "should I get a lawyer for workers' comp?" and that is to call Kitay Law Offices at 888-KITAYLAW. First, you'll receive a free consultation with our lawyers in Allentown, PA. Second, you will receive professional workers' comp legal advice and get answers to all of your questions. Third and above all, you can stop worrying!
Here are some FAQs on workers' compensation law in Pennsylvania:
Should I get a lawyer for Workers' Compensation?
Most importantly, the best decision is to get a workers' comp attorney BEFORE you have problems with your claim. The attorneys at Kitay Law Offices will protect your rights and defend against any attacks to stop your benefits.
If you have been injured at work and have a serious problem with your benefits, you should get a workers' compensation attorney immediately.
Examples of serious legal problems include:
Your employer denies your claim.
A settlement offered by your employer is too low and doesn't cover all your lost wages or medical bills.
An injury stops you from returning to work, and therefore you cannot perform your job or your injury limits what you can do at work.
Your employer has cut your pay or hours, fired you, demoted you or retaliated against you because you filed a workers' comp claim.
You were injured on the job because of a third party, like a machine manufacturer whose equipment was defective or you were in a car accident while on the clock.
Where can I find workers' comp forms?
Workers' comp forms are located on the Pennsylvania Department of Labor and Industry website here: