Demand That Your Personal Injury Lawyer is Prepared
Do you need a personal injury lawyer in Reading? Kitay Law Offices has experienced personal injury attorneys ready to help you today.
Reading is a true melting pot with cultures represented from around the world.  The 2010 US Census data shows that over 66% of the population has Hispanic origins.  Importantly, this amounts to over 58,000 people!  Even further, over 54% of Reading residents speak Spanish at home.  Thousands of immigrants have trusted that Reading can be home to their share of the American Dream. Kitay Law Offices takes pride in that dream, and is committed to helping you with legal representation for personal injuries.
KITAY LAW OFFICES
HAS BEEN FEATURED IN: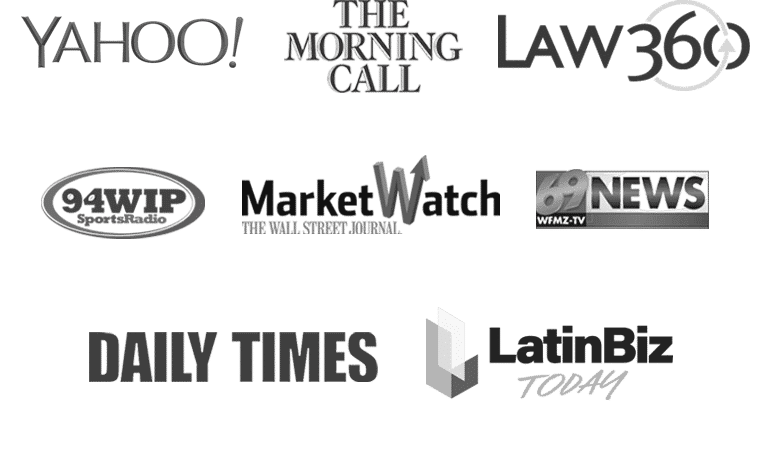 The Personal Injury Attorneys at Kitay Law Offices handle many types of personal injury claims.
Here are a few circumstances where you may need to hire a personal injury lawyer:
You've been injured in an accident and it wasn't your fault.
The insurance company won't pay for your injuries.
You are permanently disabled or need long-term treatment because of an accident.
Your injury might have only lasted a short time, but you've lost wages and have a lot of medical bills.
Dealing with post-traumatic stress disorder because of an accident that wasn't your fault.
Call for a Free Consultation today!
If you were injured in an accident, Kitay Law Offices can help. Call 888-KITAYLAW today for a free consultation about your injury. There is no fee unless we win your case.
What are the top 5 questions to ask a personal injury lawyer in Reading, Pennsylvania?
Most attorneys offer a free consultation. This meeting helps them decide whether they can help with your case. Here are a few questions you'll want to ask during your free consultation:
Have you handled cases like mine before and if so, what happened? This is the best time to find out if the attorney has the experience that you need. For example, if you suffered a personal injury due to a motorcycle accident and the attorney you are speaking with only handles truck accidents, then you are in the wrong place. Keep on looking for the right lawyer.
If necessary, will you take my case to a trial? Ask whether your attorney and their law firm has practical litigation experience with personal injury claims.  You want to know that your attorney knows their way around a courtroom.
How long would I have to wait for my case to settle? A good personal injury lawyer should be able to explain the steps involved before you are able to reach a settlement agreement.
Do you bill on a contingent fee basis? Find out how your attorney will charge you and when.
Do you have past clients who would be willing to talk about their experience with your law firm? Hearing from past clients will give you an idea what to expect when hiring the attorney.  To see what our past clients think, you can check out our reviews on Google.
What is the most common type of personal injury case?
Most often, personal injury cases involve car accidents.  In fact, PennDOT reports that 128,420 car accidents were reported in Pennsylvania in 2018.  When these accidents result in an injury, the most common type of claim is for negligence.  However, negligence claims can include many more circumstances then car accidents. In fact, negligence is the basis for liability in most personal injury lawsuits.