Were you injured in Berks County? You can always meet with a personal injury lawyer from Kitay Law Offices for a free case evaluation.
Are you looking for a personal injury lawyer in Berks County? For over twenty years, Kitay Law Offices has fought for the hardworking people of Berks County!
Since the early days, Berks County has always been a community of hard-working citizens. Top notch trade schools like Berks Technical Institute, Pace Institute and Berks Career and Technology Center have certified thousands of Berks County residents. We pride ourselves in taking care of our fellow residents in Berks County, especially when they encounter a personal injury.
KITAY LAW OFFICES
HAS BEEN FEATURED IN: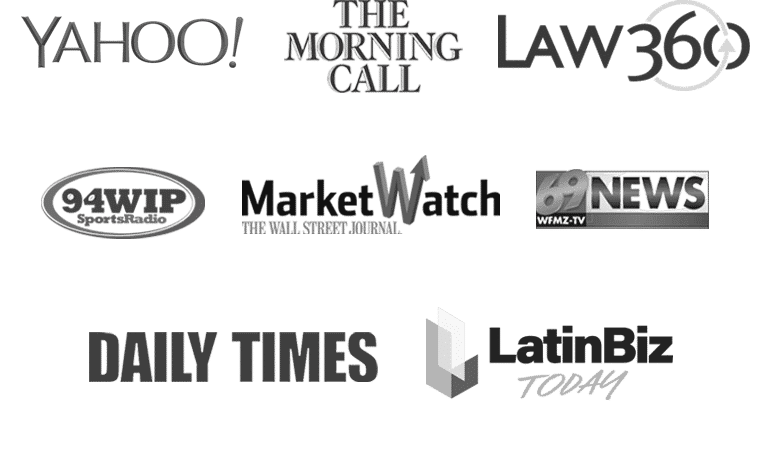 A personal injury can happen anywhere and at anytime:
Slip and fall on a wet supermarket floor
Tripping over a cracked sidewalk
Falling out of a city bus because of a faulty door
When an out-of-control crowd in a store at a holiday sale runs you over
At a neighborhood park when a dog bites a passerby
In a car accident
An apartment building with cluttered hallways and dilapidated lobby areas
Stairs in a home not built to code or with a loose railing
The list can go on and on…
Call for a Free Consultation with our Personal Injury Lawyers in Berks County.
If your injury is because of a slip and fall or another kind of accident, Kitay Law Offices can help. Call 888-KITAYLAW today for a free consultation about your injury. There is no fee unless you win.
Frequently Asked Questions for Personal Injury Lawyers in Berks County:
Are there other types of claims for personal injury besides negligence?
Yes, other claims for personal injury may include "strict liability" and "intentional torts."
Strict liability is a growing area of tort law. You need to prove that a product's design or manufacturing process made it dangerous to use, which holds designers and manufacturers liable for injuries from defective products. For example, this includes faulty airbags that do not inflate properly during a car accident and machines in warehouses that are not designed with proper guards or emergency stop devices.
Intentional torts are also personal injury claims. For example, if someone punches you in the face, even as a practical joke, you may be able to win a suit for battery.
After I file a lawsuit, what happens?
After your personal injury lawyer in Berks County files a lawsuit, both sides begin a process called discovery. During this time, the parties exchange documents or other items, as well as written questions and answers. In addition, the parties conduct depositions, which is testimony given under oath. Finally, the parties may hire experts to conduct inspections or examinations and write reports. If necessary, those experts may also provide deposition testimony. Most personal injury cases settle before trial and only a small percentage of personal injury cases ever go to trial. To find out how long your case might take, you should speak with our experienced personal injury lawyers in Berks County.
What does "Shared Fault" mean?
Sometimes, the defendant may claim that you are also partially to blame for your personal injuries. If you are partially at fault, it may affect the amount of compensation or damages you can receive from the other parties who are also at fault.
For shared fault injury cases, Pennsylvania follows the "modified comparative negligence rule." Under this rule, the amount of compensation you're entitled to receive is reduced by an amount that is equal to your percentage of fault.
Here is a "Shared Fault" example:
Let's say that you slowed down because traffic was backing up ahead of you on the Pennsylvania Turnpike and you were rear-ended because the person who hit you was on their phone.  However, let's also say that you changed lanes at the last minute before slowing down and you didn't look to ensure it was clear.  It is possible that both drivers are partially responsible for the accident. Therefore, the jury may decide that you were 25 percent at fault for the accident and the driver who hit you was only 75 percent to blame. If all of your damages add up to $100,000.00, then the amount of compensation you could receive will be reduced by 25 percent to $75,000.00.
However, if you are more than 50 percent at fault, you can't collect anything at all from other at-fault parties.