Pick a Personal Injury Lawyer Who Will Fight for Your Rights
Are you looking for an experienced personal injury lawyer in Allentown? The attorneys at Kitay Law Offices can answer all of your personal injury questions.
After all, it can be difficult and confusing trying to handle your personal injury alone. Kitay Law Offices is here to help you. Our experienced lawyers know all about personal injury law in Allentown. You deserve compensation for your pain and suffering, medical bills, and loss of wages. We will work to obtain the best result possible.
KITAY LAW OFFICES
HAS BEEN FEATURED IN: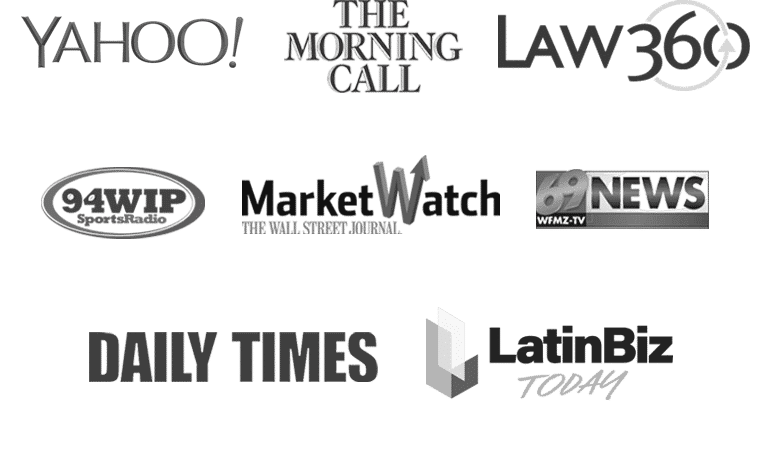 Here's a list of some things you can receive compensation for in many personal injury cases:
Pain and Suffering – You may be entitled to receive compensation for pain and suffering from the accident and for long-term or permanent pain you might have in the future.
Medical Bills – This includes reimbursement for the medical bills you've incurred because of the accident. In addition, you may receive compensation for the cost of future medical care.
Emotional Suffering – Many people suffer from fear, insomnia, and anxiety because of an accident.
Income – You may be entitled to compensation for lost salary and wages from an accident, as well as the money you could have earned in the future.
Contact us today for a FREE Consultation with our personal injury lawyers in Allentown.
If you or someone you love has been injured in an accident, Kitay Law Offices can help. Call 888-KITAYLAW today for a free consultation about your injury. If you don't win, you don't pay! Our personal injury lawyers in Allentown are eager to assist with your case.
Answers to common questions from our personal injury attorneys in Allentown:
How do you determine who is responsible in a personal injury case?
Figuring out who the negligent, or at-fault, party is in a personal injury case isn't a quick or simple process in Pennsylvania courts.
As a starting point, there are two steps which determine whether a defendant's negligence gives you the right to compensation. With step one, we compare the defendant's behavior at the time of the injury with that of a "reasonable" person. For example, a "reasonable" store owner would ensure the floors in the aisles are clean and dry. If the floor is dry, a shopper is less likely to slip and fall. If a wet floor causes a shopper to slip and fall while pushing their cart, resulting in an injury, the store owner may have been negligent.
To make it more clear, we need to examine what are known as "the elements of negligence." The elements are questions that determine the degree of the defendant's negligence and its relevance to the plaintiff's injury. Our experienced personal injury attorneys in Allentown can help you evaluate these questions. Generally, the elements of negligence are:
Duty—Was it the defendant's duty to care for the plaintiff in a particular way?
Breach of Duty—Did the defendant fail to care for the plaintiff properly under the circumstances of this case?
Causation—If the defendant failed to care for the plaintiff properly, did the defendant's actions actually cause injury to the plaintiff?
What will I get if I win my case?
If you win, a judge or jury awards you damages, which means that you win money for your injuries. This is something our experienced personal injury attorneys in Allentown will discuss with you. The amount of money you win can include compensation for:
Medical bills
Lost wages
Inability to earn wages in the future
Physical and emotional pain and suffering
Disfigurement
Disability
Inability to enjoy life as you did before the accident
What does it mean to settle a case?
Settling a case means that you agree to accept money in return for ending your case against the person who injured you. A settlement can take place at any point in a lawsuit, including before trial or even after a case has been tried but before a jury reaches a verdict. The decision to accept a settlement offer is yours, but an experienced personal injury lawyer in Allentown will be able to guide you in your decision.