How long does it take to settle a personal injury case? The personal injury timeline is usually around 1.5 years in Pennsylvania.
The personal injury timeline to settlement is around 1.5 years (14-21 months) on average in Pennsylvania. Most personal injury cases settle without litigation, meaning that most cases resolve before entering the court system. While every case is different, most follow a 6-step process:
STEP 1 (Months 1-2): Accident, Injury, Start Medical Treatment, Retain Attorney
Most of the time, you will notice an injury right when an accident happens. Sometimes, however, you may not go to the emergency room or see a doctor right away. Maybe you thought your aches and pains would go away, but they didn't. In that case, it may have taken a week or two before you went to the doctor for treatment related to your injuries. Also during this time, you will want to hire an attorney. This way, you will understand your rights and your attorney can investigate the facts of your accident.
STEP 2 (Months 9-12): Continue Medical Treatment Until Recovery or Maximum Medical Improvement
After the first step, you will need to continue receiving any and all necessary medical treatment for your injuries. This is an important part of the personal injury timeline, and it serves two purposes. First, good medical treatment will help you recover from your injuries. Second, your attorney cannot show the injuries you suffered unless your medical records document your treatment. For most cases, by the time you reach 9-12 months after the accident, you will reach the end of your treatment. This could be because you are better, or it could be because you have improved as much as possible (even though you have not fully recovered from your injuries). Unfortunately, you may have to deal with ongoing aches, pains, and limitations for the rest of your life.
STEP 3 (Months 11-15): Gather Medical Records, Bills, and Lien Amounts
Once you have reached the end of your medical treatment, your attorney will need to begin the process of gathering evidence. Your attorney will need to obtain copies of your medical records, medical bills, and information about any liens that may apply to your case. To accomplish this, your attorney will contact all doctor's offices where you received treatment to get your medical records. Your attorney must wait for them to send everything over, which can take up to a few months per doctor's office.
STEP 4 (Months 12-18): Draft and Send Demand Packet, Negotiate Settlement
At this stage in the personal injury timeline, your attorney will send what is called a "Demand Packet" to the defendant's insurance company. Notably, this packet of evidence includes a letter asking the insurance company to make a settlement offer. The insurance company representative will review the evidence and contact your attorney regarding settlement negotiations. In most cases, your attorney will ask for a really high dollar amount and the insurance company will begin by offering a very low dollar amount. Your attorney will then contact you about the offer that is being made and give advice regarding the best way to respond. After this negotiation process, most cases end up with a settlement agreement.
If you are unable to reach a settlement agreement, your case will likely enter litigation. This means your case will enter the court system. If this happens, your attorney will discuss the court process with you. Notably, there is a statute of limitations that requires you to file a lawsuit within two years in Pennsylvania for many cases. For that matter, you should always consult an attorney right away if there is any question that you may be injured.
STEP 5 (Months 14-21): Complete Settlement Documents, Negotiate Bills and Liens
Once your case settles, you will need to review and sign some documents. These documents usually indicate that you are agreeing to accept the settlement in exchange for ending your case against the defendant forever. The insurance company will also send the amount of the settlement funds to your attorney's office. Your attorney will keep the money in a protected trust account, called an IOLTA account. While the settlement funds are in the trust account, your attorney will work to ensure any medical bills or liens that apply to your case are negotiated and settled for the lowest amount possible.
STEP 6: Closing the Case – Distribute Settlement Funds
After completing all other steps in the personal injury timeline, your attorney will be ready to disburse your settlement funds.  Typically, your attorney will review a document with you that shows the total amount of the settlement, the amount of your attorney's fee, costs that were incurred in pursuing your case, and the amounts of any medical bills or liens that will be satisfied out of the settlement funds. The amount remaining is what ultimately goes into your pocket.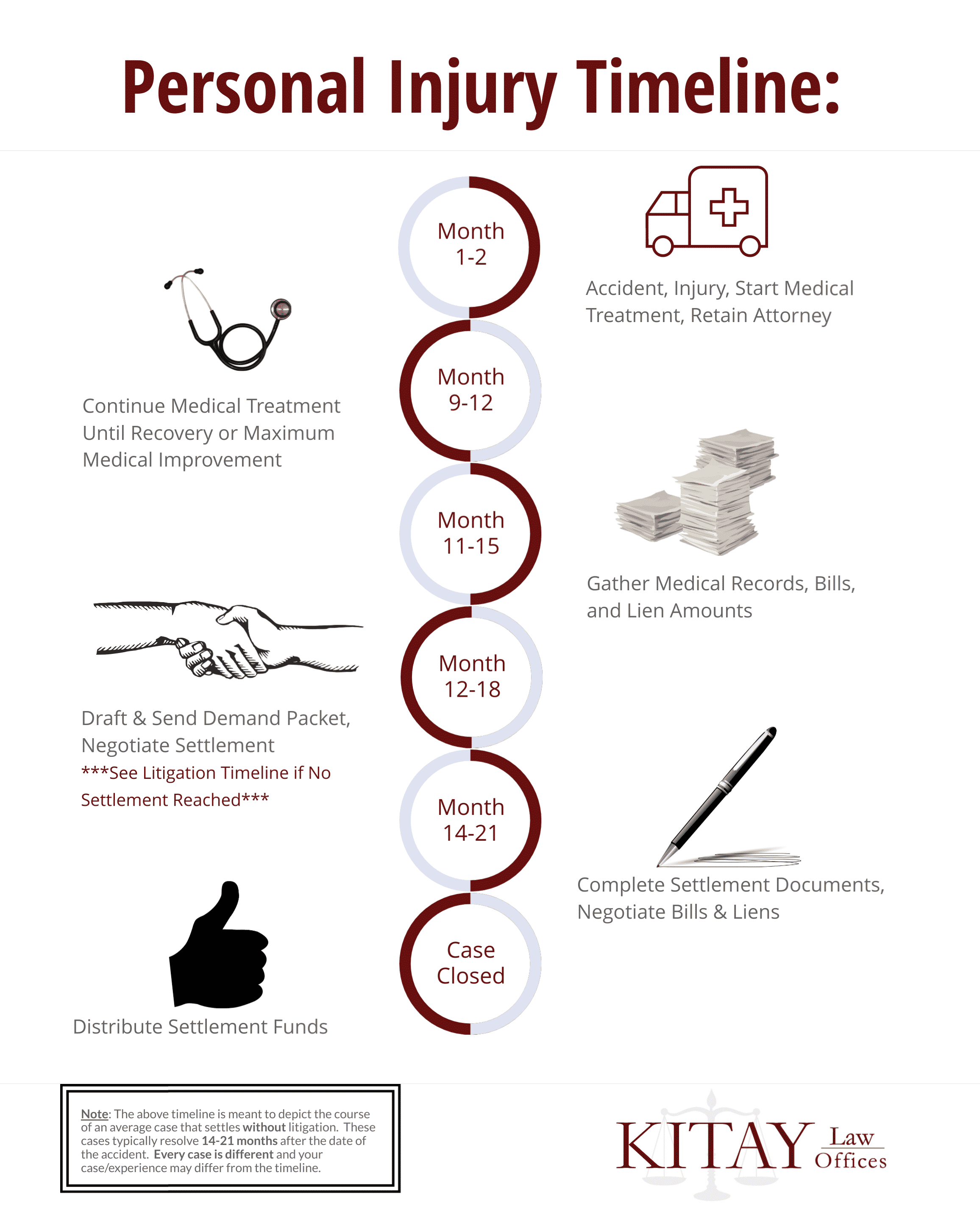 ---
Meet your personal injury attorney; Thomas J. Pivnicny, Esquire
Thomas is a smart lawyer and critical thinker. In fact, his ability to work with insurance companies and other lawyers is excellent. As a result, he has won millions in personal injury settlements. He understands the personal injury timeline, and he will work hard to get you the largest compensation possible.
Thomas can be reached by calling 888-KITAYLAW.